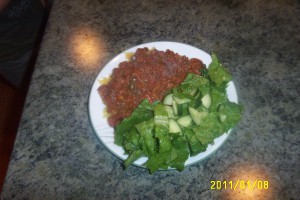 Ideally this recipe would use grass-fed meat.  I'm working on it.  The meat I used (both beef and the sausage) was lean enough I had to add olive oil to keep things from getting unpleasant, so if we don't look too carefully we should be okay.
It's my birthday later this week and my daughter wanted to do something nice for me for my present. I asked her to make supper for me.
I think she did a good job — a very good job, for someone nine years old.
Ingredients
2 pounds lean ground beef
1 pound cooked chorizo sausage
1.5 medium onions
half a celery (half the ribs, that is; the smaller ones are hidden)
half a head of garlic
2 large green peppers
1 large yellow pepper
2 cups small brown mushrooms
large can of stewed tomatoes
large can of tomato paste
oregano to taste
crushed dried chili peppers to taste
olive oil for cooking.
Directions
Get out a four-quart pot.  This recipe will about fill that.
Put about two tablespoons of olive oil into the pot and start heating (you want a medium-hot pot to start, don't wait for the oil to smoke).  Slice the sausage into medallions about 3/8 inch thick and put in the pot, stirring frequently.  This will encourage the flavor and spiciness of the sausage.
Coarsely chop the onions and celery; peel, crush and mince the garlic.  When the sausage has been further browned and has released some fat, remove the sausage from the pot and put onions, celery, and garlic in.  Stir frequently to prevent burning, until onions are translucent, then remove them from the pot (I put them in the same bowl as the sausage).
Put the ground beef in the pot to brown, stirring to break it up.  You may need to add some oil before you start.
While beef is cooking, coarsely chop peppers and quarter mushrooms.
When beef is cooked, drain excess fat (move all beef to one side and tip pot so the liquids will run to the other side, then remove).  This time out there was no real need, there was very little fat to speak of.  The meat was that lean.
Put everything (beef, sausage, onions, garlic, celery, peppers, mushrooms, stewed tomatoes, tomato paste, oregano) into the pot and mix.  See the "Primal Pasta Sauce Assembled" picture to the right.
Turn the heat down to a fairly low temperature and allow to simmer for about six hours, stirring from time to time to prevent burning (or put it in a slow cooker).
Serving
This sauce can be served on normal pasta or used in other dishes (such as lasagna), but that would defeat the purpose of primal cooking.  Instead, I had this on spaghetti squash, which is… not a bad substitute for pasta, I suppose.  Healthier, but not quite the same.  Close enough for me, though, it comes close to the right texture.  It's a little watery, I'm thinking that letting it drain a little more before serving will help.  It works well enough when I want the sauce on something, but most often I'll just have a bowl of it and some salad.
Speaking of the salad, this salad was somewhat simpler than I usually make for myself, but it was a good complement to the meal.  The sauce was certainly robust enough to be the focus of the meal, so romaine lettuce and cucumber was a good match.
Variations
This recipe is insanely flexible.  My wife does a similar recipe but with much less meat (one pound of ground beef, no sausages) and more vegetables (three or four onions, carrots, zucchini, and so on), and less spice.
This is also a wonderful fridge cleaner.  Almost any leftovers fit — cooked vegetables or meat especially.  Potatoes aren't such a good fit (and don't suit my diet anyway), but most anything else goes.  I've put roast beef, pork, and chicken in.  I've added beans and corn (both no longer in my diet), cauliflower and broccoli (both of which are in my diet)… almost anything that needs to be used up can go.
Other Notes
I'll often make a sauce like this with just the beef, without sausage.  These sausages are from a local butcher and are pretty acceptable (I don't remember all of the ingredients, but I did recognize them — no preservatives and the only thing on the avoid list was a bit of sea salt, the rest was meat and herbs and spices).  For chorizo they were quite mild, though, milder than I was expecting or hoping for.  I think I'll look for something a little spicier next time.  Those sausages I used at Christmas would be a better fit here.
Closing Comments
I'm proud of my daughter's cooking.  Tasty, satisfying, and (within the limits of the ingredients we have available) fairly consistent with a primal diet.
I'm just having a bit of difficulty… is healthy food supposed to be this good?