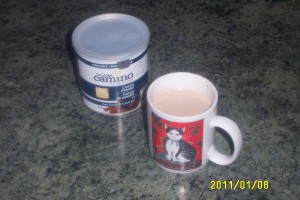 Yes, this is only the second article I've written on primal hot chocolate. It's my third try at a primal replacement for hot chocolate (the second wasn't  a noodle incident, but wasn't such an improvement I felt compelled to write about it).
This is the best result I've gotten yet.  A couple of changes in the ingredients is all it took.
Note that the hot chocolate shown is actually a bit darker, the picture here shows the  foam on the top.
Also, I said 'probably' in the title because I don't remember where vanilla extract fits in.  I'm pretty sure the process for creating it is something Grok couldn't do, but I'm also pretty sure I've seen vanilla extract used in one of Mark's books.
Ingredients
1/2 cup coconut milk
1/2 cup water
1 tablespoon Dutched cocoa
1 teaspoon vanilla extract
Directions
Mix the cocoa with a couple of tablespoons of coconut milk in order to get it to mix smoothly, add the remaining coconut milk, stir until even, add water and vanilla.  Heat to desired temperature (I used a microwave this time rather than a pot on the stove, sorry Grok).  Enjoy.
Really, it's that simple.
Dutched cocoa is prepared slightly differently, and is less bitter than most cocoa.  The vanilla helps smooth out some more of the bitterness — not completely, and this isn't as sweet as conventional hot chocolate, so the bitterness is still noticeable.  If you like dark chocolate it's certainly an acceptable level of bitterness.  In fact, I'm thinking of increasing the cocoa by about half next time and seeing where that ends up.