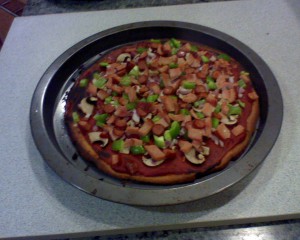 I decided to take a run at pizza, using the healthiest set of ingredients I could come up with.  I'm not entirely satisfied, but it was good enough I'd be willing to work on this as a start.
This recipe is adapted (more or less successfully) from one I found at http://eatthecookie.wordpress.com/2010/06/11/dear-pizza-i-missed-you-so-much/.
Crust Ingredients
3 eggs
1/2 cup coconut milk
1/2 cup coconut oil (I was feeling lazy so just used olive oil)
1/2 cup coconut flour
1/2 teaspoon baking powder
1/2 teaspoon salt
Optional Ingredients
2 teaspoons granulated garlic or garlic powder
4 teaspoons dried oregano
2 teaspoons ground dried chilis
Directions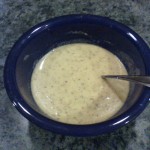 Preheat oven to 375F, line a pizza pan with parchment and lightly oil the parchment.  You'll want some overhang, it makes it much easier to get the crust out. Beat eggs until smooth, beat in oil and coconut milk.  In another bowl sift together all dry ingredients (lumps of coconut flour do not help) and stir.   Add dry to wet and stir until smooth, then let it sit for a time while preparing other things, such as toppings.  Coconut flour is very absorbent and recipes seem to work better if you let it sit for a while.
Pour crust batter evenly into the pizza pan and put in the oven for 20 minutes or until browned.  Remove from the pan and turn over — with a bit of practice it's not hard to do in the same pan, but it may be even simpler to just do it to a second pan. I found that the batter for the crust was initially very runny.  You should really expect to use something with a ridge around the edge of the pan if you don't want to be cleaning a mess off your counters.
Toppings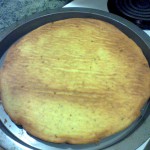 From  here you can pretty much top as you wish.  I wasn't really prepared and didn't have the toppings I would have preferred (turkey pepperoni?  meh), but I made do.
Sauce
1 small can of tomato paste (I frankly forget how big the can is)
1 teaspoon granulated garlic or garlic powder
2 teaspoons dried oregano
For the sauce I've found that plain tomato paste plus some garlic and oregano works best, and I've tried several pizza sauce recipes without finding one that works better.  The measures are actually taken from another source, I'm really lax about precise measurement for these things.  "That looks like too much" (from my wife) means I probably have the garlic right…. The sauce gets applied to the crust after removing from the oven.
I usually put a 'solid layer' (even and enough that you can't  actually see the crust through it — 1 or 2 millimetres thick, say).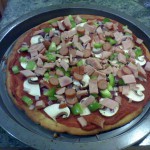 After this, put on whatever other toppings you like.  Tonight I went with brown mushrooms, red onions, green pepper, ham, and (sigh turkey) pepperoni.  I'm not eating dairy right now so did not include any cheese, but feel free to do so yourself — it offers a lot of structural support.
When using cheese I usually go sauce, very light layer of cheese to help bind toppings to crust, then vegetables (mushrooms, peppers, onions in that order, so they don't burn), then a light layer of cheddar, then the meats and, if desired, pineapple, then a last layer of mozzarella.  I find alternating the layers really helps make something that'll hold together.
Today I didn't use cheese at all, so had to keep the ingredients light so they could all reach the sauce, since that was what held everything together.
Assemble the pizza on the pre-cooked crust, then put under the broiler for a few minutes.  If you've got cheese on, it'll melt and slightly brown the cheese, but if you don't it'll give the toppings a bit of cooking and help the sauce set and hold them.
Conclusion
All in all I would judge this: not bad.  Because it ended up so soft I couldn't pick the pieces up.  It frankly seemed to me to be rather more like an open-faced omelette.  This was a little disappointing, but overall it tasted fine.  The coconut is noticeable with these ingredients but far from overpowering; I think with different toppings (curry-based sauce, chicken, onions, and peppers) it would complement things rather nicely.
So, as I said, it's a starting point.  I may have to run a number of experiments to tune it, but I don't expect any major disasters — there may be minor failures, but the evidence can be readily (cough) disposed of.