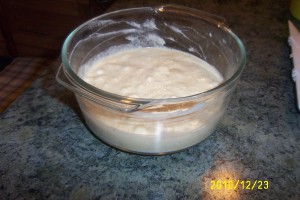 So, I decided to take a run at primal egg nog.  It turned out to be really simple, though thanks to a verbal stumble I think it will be referred to around my house as "OG Nog" (note: guttural pronunciation is key; feel free to bellow) from now on.
Pictures to follow, after I fetch the camera from upstairs.
More than two weeks later, I finally got around to pulling the pictures off the camera.
Ingredients
5 eggs
1/4 teaspoon cream of tartar
1 can (400 mL) of coconut milk
1/2 teaspoon  xanthan gum
1 teaspoon vanilla
1/2 teaspoon stevia powder
1 teaspoon nutmeg
1/2 teaspoon cinnamon
Directions
Separate the eggs, putting the egg white in a very clean bowl (any fat in the egg white will prevent the whites from stiffening properly).
Add the cream of tartar to the egg whites and beat until stiff peaks form.
Sprinkle xanthan gum on the coconut milk and beat until coconut milk stiffens (as with whipped coconut milk).
Add remaining ingredients (vanilla, stevia, nutmeg, cinnamon) to egg yolks and beat until foamy.
Fold together beaten egg whites, whipped coconut milk, and beaten egg yolks.
Serve, or chill for later use.
Variations
Too many to name, really.
For a start, I think next time I'll leave the stevia out, the coconut milk adds enough sweetness to satisfy me.
Eggs can be increased (6 easily, 7 maybe) or decreased (4 easily, 3 maybe) depending how much egg flavor you want.  This worked quite well with 5, though.
Adjust spices to taste.  I favor more nutmeg than cinnamon, but there is lots of room for adjustment here.  You can easily double the spices if you like stronger flavor.
Leave out the xanthan gum if you want a runnier egg nog, or just throw everything in a blender and be done with it.  I like the texture this produces.
Alcohol!  I don't usually care much for it myself, but this would work rather nicely with the usual choices (brandy, rum, certain liqueurs, and so on).  You may wish to adjust the spices to better complement the liquor used.  If adding alcohol, I would probably mix it with the egg yolks or perhaps the coconut milk for blending.  You can mix it in later, but it will basically cut through the foamy egg nog and need to be stirred in, destroying the lightness of it.  At least, that's what happened when I tried adding alcohol to the original non-primal — i.e. made with heavy cream — recipe.
Observations
This produced a rich, foamy egg nog that held its shape well, and was only mildly sweet.  I didn't notice any coconut flavor, though the coconut milk did add a bit of sweetness.  The stevia was more noticeable; I don't find stevia's flavor objectionable, just distinctive.
This is subject to tweaking, but it looks like I may have gotten this in one try.